Chairman of Joint Chiefs on how the U.S. can maintain military edge
November 17, 2023
In his first public remarks, Gen. Charles Q. Brown Jr. calls on government, industry, and academia to innovate and collaborate to solve the pressing challenges facing the nation and world
Key Takeaways
The Israel-Hamas war and Russia's invasion of Ukraine highlight why the U.S. military must champion innovation.
The Department of Defense must accelerate government processes to harness the power of the private sector.
The U.S. needs to step up its collaboration with friends and allies to deter aggression from adversaries.
---
The U.S. military is the most capable force in the world, but it needs to ramp up innovation, change its old-school culture, streamline its processes, attract talented people from all sectors, and collaborate with private industries and international partners to maintain its edge.
That was the resounding call to action as dozens of senior officials, military leaders, and private sector executives gathered Nov. 16 for the National Security Innovation Forum at the Johns Hopkins University Bloomberg Center to discuss how to achieve that critical mission. Just weeks after the eruption of the Israel-Hamas war and more than 18 months into the Russia-Ukraine war, the summit's focus on modernizing the nation's defense ecosystem couldn't have come at a more salient time.
"The Department of Defense is doing more than ever before to deter, defend, and, if necessary, defeat aggression," Chairman of the Joint Chiefs of Staff Gen. Charles Q. Brown Jr. said in his first public remarks. "If there's one lesson I've taken from my first six weeks as Chairman of the Joint Chiefs, it's that the security landscape can change in an instant. We may not have much warning when the next fight begins. We need to be ready."
In a pre-recorded speech, Michael R. Bloomberg, founder of Bloomberg Philanthropies & Bloomberg LP, highlighted how recent events elevate the need to develop greater collaboration between government and industry. "Building enduring technological advances for the U.S. military will help our servicemembers and allies defend freedom across the globe," he said. "Last month's horrific terrorist attacks on Israel only underscore how important that mission is."
"Today's forum is an incredible opportunity to marry the creativity and research from many parts of our university and other universities, with the operational, tactical, and technical expertise of colleagues in government and industry—because these things really are a partnership."

– James B. Steinberg, Dean, Johns Hopkins University School of Advanced International Studies
The summit—hosted by the Pallas Foundation for National Security Leadership—included four panels that focused on different areas of the U.S. military complex, with a goal of identifying and providing examples of how innovation has been successfully driven forward and highlighting new ways of overcoming challenges.
"We're getting better in certain areas, we have a big process and a big institution that doesn't change very well," Gen. Brown said in a Q&A session moderated by Admiral Mike Mullen, former Chairman of the Joint Chiefs of Staff. "We've got to get out of our own way in certain areas."
Panel 1: Innovating for Economic Security
Rethinking challenges, experimenting with fresh tactics, and collaborating with partners, both within the U.S. government and across borders, are critical to ensuring both national and economic security.
"National security and our prosperity are all intertwined, and they will never be untwined," said former Navy Secretary Richard Spencer. "It's absolutely critical that we start thinking like this and expand our thinking down this path in national security, because we're going to have to look for a whole-of-government solution."
​Part of that solution should include ramping up partnerships with other countries, particularly those in the Western Hemisphere, Gen. Laura Richardson, Commander of the U.S. Southern Command, said. Many nations in South America and the Caribbean have plentiful resources, from rare earth minerals to agriculture products, that the U.S. and countries around the world rely on. But that potential also makes these nations vulnerable to adversaries, including China.
"Out of 31 countries, 28 are like-minded democracies, and we want to keep it that way. They look to us all the time," Gen. Richardson said. "We have a lot to lose, and we just need to step it up. Our partners are willing. They want to work with the United States. But first and foremost, we've got to be there for them."
Panel 2: Changing the Military's Status Quo
As the U.S. tries to deter China and deals with significant challenges in Russia and Ukraine as well as the Middle East, the Navy and the Marine Corps remain at the so-called pointy end of the spear as they have for the past several decades, Navy Secretary Carlos Del Toro said. But today, the Navy is also adopting new approaches to technology, focusing on partnerships with private industry, and changing its internal and external processes to meet the rapidly evolving demands for its expertise and capabilities.
"Our challenge today is to actually embrace technology that's innovating at an extraordinary pace in the private sector and be able to embrace that whether it's just commercial off the shelf or integrated into our weapon or information systems, so we can take full advantage to bring that capability to the warfighter as rapidly as possible," Del Toro said.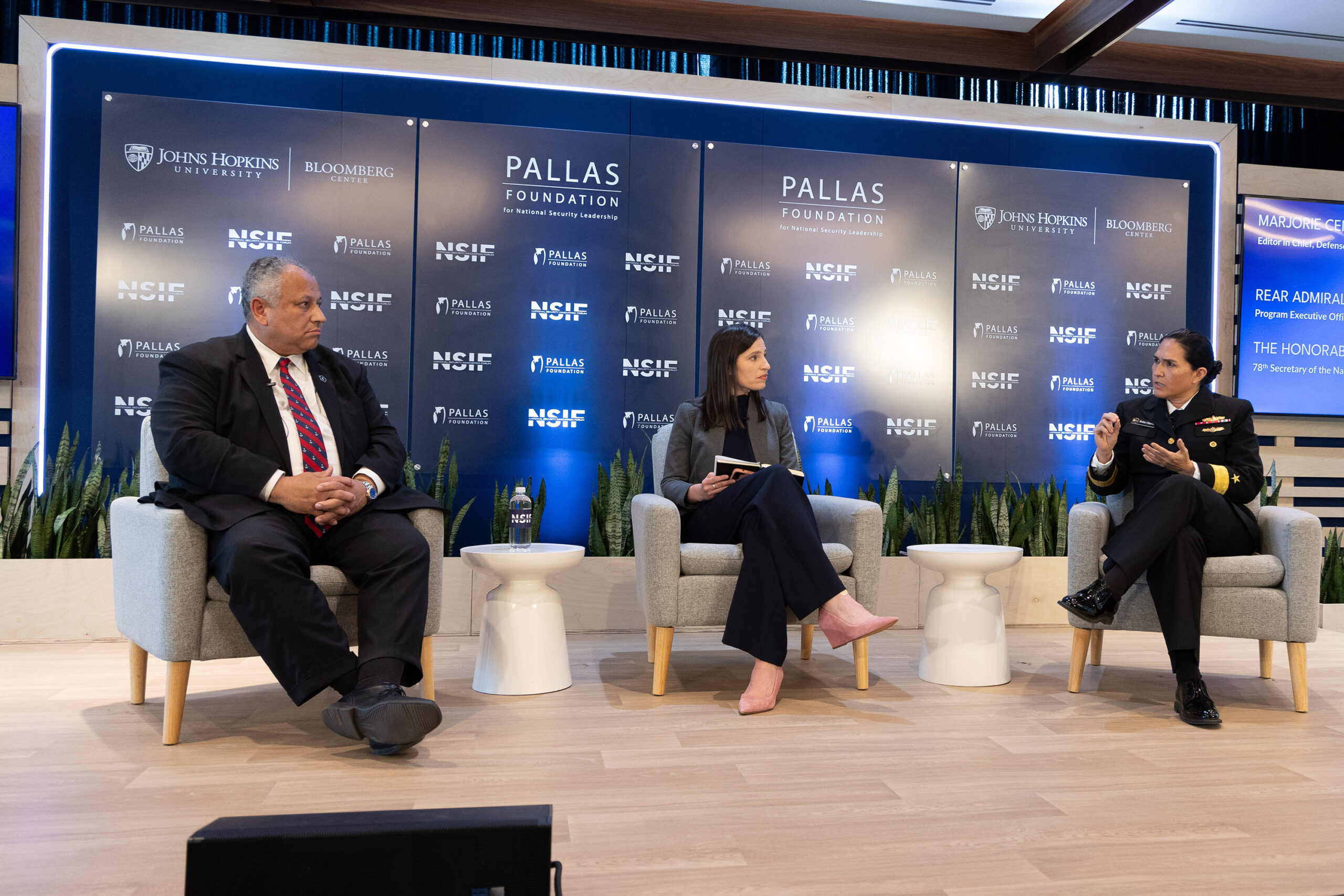 Rear Admiral Seiko Okano, Program Executive Officer of the Program Executive Office Integrated Warfare Systems in the Department of the Navy, said achieving that means swiftly moving from experimentation to adoption.
"It is about just kind of changing that culture, and saying it is OK to get out there," she said. "And maybe it doesn't work out and guess what, we learned something and that's even better. And we can kind of riff off of that and go faster."
Panel 3: Partnering with Private Industry
The private sector is fundamental to shaping the future of the defense ecosystem by driving change and technological advancements through innovative approaches and unique thinking. That's been particularly key in recent weeks amid the Israel-Hamas war, said Schuyler Moore, Chief Technology Officer of the U.S. Central Command.
"A lot of the capabilities that we've been able to leverage in the last 40 days didn't suddenly come to light in the last 40 days," she said. "It required investment in the 12 months prior both in the software and hardware in order to not only prove out whether the technology was mature enough to use, but also to build the muscle memory of operators so when a crisis hits, they feel comfortable enough to get the tools up and running."
"The nation's challenge is not a singular monolithic objective that is beyond our collective reach because of its bigness, but rather a set of intermediate critical paths that individuals like you can advance the things that we need for the future."

– Sue Gordon, President, Pallas Foundation
Critical to this is getting out of the mindset that all tools and systems must be perfect before being deployed—particularly when it comes to autonomous aircraft. "Our adversaries are out there fueling imperfect things. And if we continue as a country and say, 'You've got to figure everything out and then maybe we'll go there,' we're going to take our 50-year advantage of air superiority and it's going to evaporate," said Matt George, CEO of Merlin Labs, an autonomous flight start-up company.
Panel 4: Investing in National Security
​The technology supporting the U.S. military and protecting U.S. national security is developing at a more rapid pace than ever. To maintain competitive investment across critical technologies, the Department of Defense must harness the power of the private sector—and the clock is ticking.
"We don't have years, we don't have time, we have an adversary in the South China Sea that is not wasting any time and we can't either," said House Defense Appropriations Committee Chairman Rep. Ken Calvert (R-Calif.). "We need to innovate, and we need to deploy these new systems as quickly as possible."
That means leaning into the private sector, which has the technology and the capability to meet the demands, said Doug Beck, Director of the Defense Innovation Unit and Senior Advisor to the Secretary of Defense. "When we look at critical technologies for defense, [the private sector] just moves faster and frankly, they're always going to move faster in terms of quality and capability in order to meet the relentless demand of billions of consumers around the world," he said.
Fortunately, the status quo of Silicon Valley and Department of Defense partnerships has been evolving in recent years. Where many startups and engineers used to shy away from working with the agency, it's now better at attracting the talent needed to get the job done.
"With the geopolitical changes we're facing, [private companies are] thinking differently. The problem is they don't know how to work with us. We need to find a way to simplify the process," said Charles Philipps, Managing Partner and Co-Founder of RECOGNIZE, a technology growth equity firm, and former president of Oracle.